Several pieces of land covered with wild vegetation and dominated by the colour of pine trees interchange harmonically with cultivable pieces of land, this way creating wonderful scenery under the shadow of the "Farada" forest.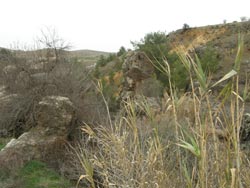 In particular, the uncultivated land of the village is mainly covered with pine trees and low bushy vegetation. The pine-planted land of Kalo Chorio has in essence replaced land which used to be planted with vineyards.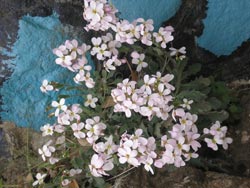 A domination position is held by the "Askopelos" forest, whose part of it falls within the administrative borders of the village. The forest is located on a higher altitude than the rest of the village's land· one would say that it resembles a sleepless but peaceful fortress.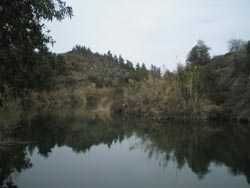 Many fruit-baring trees such as almond trees, fig trees and apple trees can be found in the cultivated land of Kalo Chorio. Situated south of Kalo Chorio is the homonymic water dam, which although it is of a low capacity, it provides the residents with the opportunity to deal with irrigated kinds.
| | |
| --- | --- |
| | |
Location "Diplopotamos" constitutes the most impressive image of Kalo Chorio. This is the area where the rivers of "Farmaka" and "Maroullena" are united. The place where the two rivers are united is also the starting point for two canyons of unique beauty. Karouzis describes this remarkable phenomenon as follows: "Another noteworthy geomorphologic phenomenon with impressive alluvial terraces and relatively deep canyons is constituted by the valleys" of the river Maroullena and especially the location "Diplopotamos", where the valleys converge. It appears that the altitude difference with the valley bed in the north has forced the water to deepen the bed at these points, creating impressive canyons. Similar phenomena can also be encountered in other areas north of the Troodos mountain range".
Source:
Giorgos Karouzis, StrollingaroundCyprus, Lemesos, CityandDistrict, Lefkosia 2001.
Kalo Chorio Community Council
Great Cyprus Encyclopaedia, vol. 6